European Social Fund Tribe Payments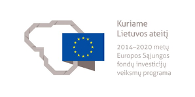 JSC "Tribe payments" implements the project JSC "TRIBE PAYMENTS" IMPROVING EMPLOYEES' COMPETENCES AND SKILLS IN ADAPTATION TO THE ECONOMIC CHANGE"
(project number No: 09.4.3-ESFA-T-846-02-0010).
The aim of the project – to create the conditions for JSC "Tribe payments" employees to acquire specific competencies and to adapt to the economic changes by applying practical forms of training at work. Target group – the applicant's employees.
Project implementation period – 12/05/2020 – 12/11/2021.
Project budget – 246.655,10 Eur, of which amount is requested – 147.990,59 Eur.
The project is funded by the European Social Fund.
Ready to see how it works?
Want to see what our technology looks like in action, book a demo with one of the Tribe.