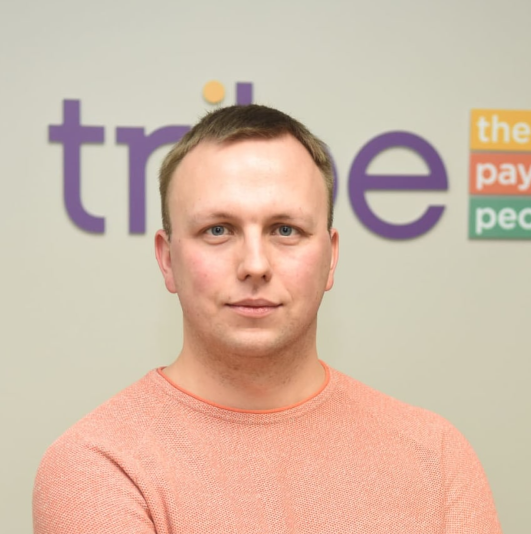 Hiring Manager
Paulius Kajokas
Lead Developer
PHP Back-End Developer
Chisinau Moldova
Tribe is a rapidly growing payments technology company on a mission to make the world of payments simple, secure and accessible. Tribe's technology is built for today's challenges and tomorrow's opportunities.
At Tribe, we dream of a future where payments innovation supports the day-to-day experiences that end-users crave. We focus on creating solutions that press 'fast-forward' on the innovation lifecycle, without compromising quality, operational value, or stability.
Tribe Payments, a paytech startup, is looking to continue its rapid expansion in the payments market. Tribe Payments is a group of people that have come together with a singular purpose of making the world of payments simple and accessible. Join our ever-growing Tribe Payments team as a PHP back-end Developer in our Point of Sale (POS) product and help us change the way this market perceives payments.
Point of Sale for Acquirers. Today's physical checkout can be anywhere; a market stall, an unattended kiosk, a doorstep charity donation, a railway station. To meet merchant needs and grow market share, you need fully flexible, smart POS technology. Whether you're supporting in-store payments for large retail chains or mobile POS payments for independent microbusinesses, Tribe can take care of your POS requirements and help you deliver the payments services your merchants need.
In our POS product we create a full chain of transactions from android device to server- side processing via simple API. Clients can set-up their own terminal capabilities to view transaction logs and reports in our admin UI.
What you would do
Collaborate with IT Project Managers, Designers and QA engineers to build POS processing solution
Work on API integrations, processing of real-time transactions where speed is critical
Maintain in-house processing solutions
Work with data encryption and various cryptography tools to comply with PCI-DSS standards
Build payment-related features and maintain real-time transaction monitoring and processing tools
Develop and deliver new web solutions (backend applications, many API's, different complexity of integrations)
Be a valuable team member by sharing knowledge and best practices with the team
What we expect from you
Clean and scalable code
3+ years experience in PHP, MySQL (or other databases), GIT
Experience with Symfony or any other PHP Framework
Solid understanding of OOP principles and design patterns
Focus on quality and critical, analytical thinking
Strong ownership and collaboration skills
Fluent communication in English
It's great if you have proficiency in developing user interfaces (Vue.js / Bootstrap / jQuery / SASS)
It's great if you have some knowledge about Golang, RabbitMQ, Redis, MQ, Node.js, and DB clusters
We offer
We want people to thrive at Tribe - we believe that you do your best work when you feel your best. Everyone is different, that is why we provide flexible benefit packages tailored to your needs:
High-performing, ambitious, collaborative, and fun working culture
Fast pace learning environment and opportunities to grow professionally in a vibrant international environment
Long-term continuous project work with internal clients
Flexible relation to the company and freedom of thinking
Young, positive, innovative team; friendly and skilled colleagues
Office in the heart of Chisinau city with provided parking
Company-paid lunches, professional trainings, fresh fruits and drinks in the office, workcation, hybrid work opportunity, great team building events, and much more
You can apply for this role by filling in the form below